KB 176 - DBSQL_SQL_ERROR ABAP dumps (Sybase)
KB 176(ABAP): DBSQL_SQL_ERROR ABAP dumps (Sybase)
| Category: Problem | Priority: High |
| --- | --- |
| Platform: ABAP | Version: 1 from 25.04.2023 |
Description
The issue affects only Sybase DB.
DBSQL_SQL_ERROR dumps are raised in ST22. Running program has "insert <DB TAB> … accepting duplicate keys" statement, but still failing due to duplicate key error. Dumps contains the string "SQL message: [ASE Error SQL2601:23000]Attempt to insert duplicate key row in object".
Sample dump: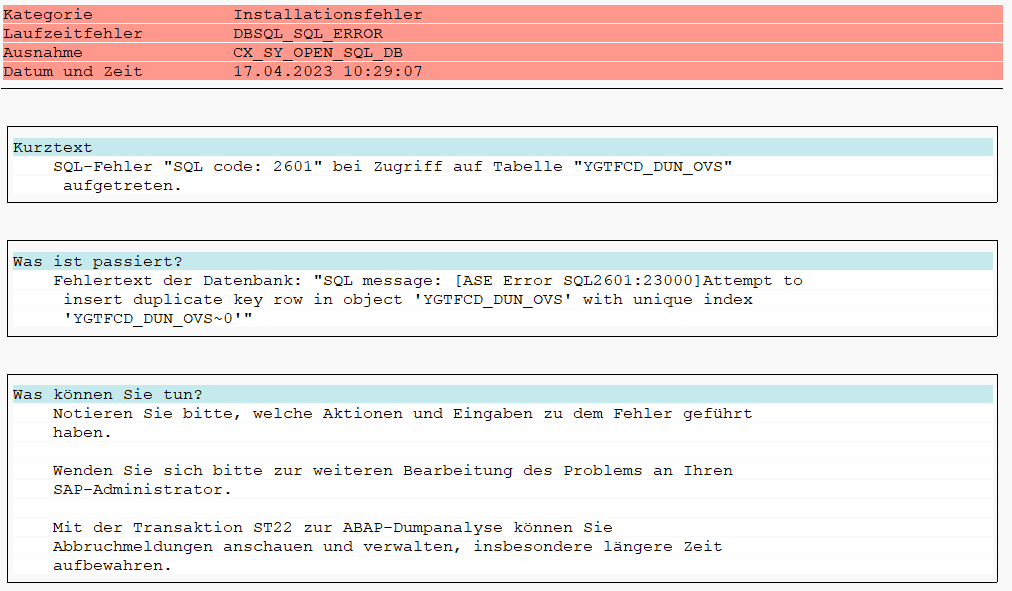 Cause
Program error.
Resolution
Temporary workaround: please deactivate TABLE_COUNT and PC_METRIC_QUEUE group definitions in Administrator->Setup Group Def menu.
The issue is fixed in SP 7.01 and newer. The recommendation is to update to PowerConnect SP 7.01+ version.
Product version
| | | |
| --- | --- | --- |
| Product | From | To |
| PowerConnect (NW) | 6.00 | 7.00 |