KB 87 - Support Pack 5.09 to 6.0 Upgrade
KB 87 (ABAP): Support Pack 5.09 to 6.0 Upgrade
| Category: Information | Priority: Normal |
| --- | --- |
| Platform: ABAP | Version: 1 from 23.03.2021 |
Description
Please follow the following steps to upgrade the PowerConnect application from Support Pack 5.09 to 6.0.
Log into the managed system where the upgrade is planned, and execute the /n/bmwvs/main transaction.

Stop the collector job by selecting thec"Stop Collector" button .

Wait to confirm that all metrics have been sent to Splunk.

Stop the remaining jobs using the "Toggle Uploader" and the "Stop Check Job" buttons.

Clean-up all metric tables using the Goto->Truncate cluster functionality. This is needed, since the metric serialization approach is changed, and it might cause issues once uploading is started after upgrade: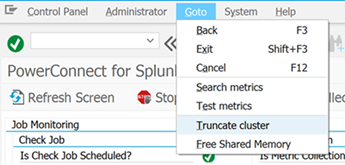 Use SPAM to apply 5.10;

Use SAINT to upgrade to 6.0;

Transport the hotfixes (STMS) for SP 6.00 if any shared;

Activate BC set /BNWVS/BCSET_500 (Tcode=SCPR20)

Start PowerConnect Background jobs.
Product version
| | | |
| --- | --- | --- |
| Product | From | To |
| PowerConnect NW, S4HANA, and S4HANA Cloud | 5.09 | 6.0 |